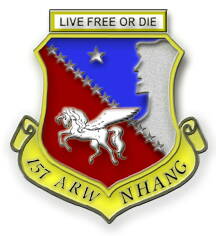 "The Air National Guard as we know it today is a separate reserve component of the United States Air Force. The official birth date of the Air National Guard is 18 September 1947; the same day the Air Force became a separate service. The Air National Guard as we know it today was a product of postwar planning during World War II. The men and women of the Air National Guard are truly the epitome of our nations first militia dating as far back as the Massachusetts Bay Colony in 1636. In those days, every able-bodied man had a weapon and could be called upon to lay aside the plow in defense of the state. Today's guardsmen and women are your doctors, lawyers, police officers, cooks, teachers, and factory workers, white and blue-collar workers. They are your civilians in peace; Airman in war - we guard America's skies.

Air National Guard members take pride in being active role models for their communities. During times of celebration or trouble, the Air National Guard provides resources and support needed to get the job done. We have helped with such projects as Habitat for Humanity and Red Cross blood drives. We have supported our communities with time, sweat and supplies during hurricanes, tornadoes and earthquakes. As an institution, the Air National Guard is committed to the vision of being a mirror of the people and values of America. We share in the success of our nation, and we are ready, willing and able to defend America's freedom. We take great pride in being "Your Hometown Air Force"- the Air National Guard.

The 157th Air Refueling Wing is located in the beautiful Seacoast region of New Hampshire. Comprised of almost 1,000 members from all walks of life, we serve our State and Country proudly.

NHANG Vision Statement:

Citizen soliders building the nation's most respected Air National Guard unit- serving America, new Hampshire and community... in partnership with family and employer."

Related Link: http://www.GoANG.com